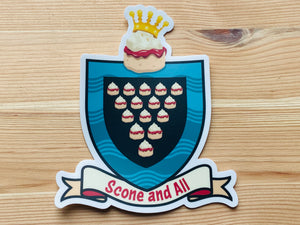 Jam First Scone And All Car Sticker (Bumper)
Regular price
£3.50
£0.00
Unit price
per
Using our stunning logo developed by Mad Cornwall get yourself a Jam First Scone And All Car Sticker. 
Rear adhesive for fixing onto car bumpers, trucks, vans, mobile homes, camper vans, bikes, mobility scooters, luggage. The possibility's are endless.
Size 12cm x 10cm.
IN STOCK
Great sticker
A great sticker with a play on words. Different from the usual type of sticker. Proper job.
Scone and all
This car sticker will bring a tear to the eye and a lump to the throat of every Cornish person who sees it! Proper!
---